If you're planning to travel to Croatia for 7/10 days, this itinerary will help you make the most of your trip. Including some of the best Croatian highlights, we want to make sure we got you dreams covered.
Croatia Itinerary 7 days
Days 1- 2  —Dubrovnik
We're starting off our itinerary for Croatia in the popular city of Dubrovnik. Dubrovnik is located in the southernmost part of the country and makes for a great starting point when discovering the wonders of Croatia.
Your Croatia itinerary isn't complete without visiting a town full of beaches for the sun dwellers, museums for the culture and history buffs and hikes and water sports for the active traveler.
Things to do in Dubrovnik
Explore the Old Town
Take a walking tour around the inside of the walls of Dubrovnik old town. Explore the historic architecture and flooring within the buildings made marble, which gives the town its nickname: 'Pearl of Adriatic'.
Game of Thrones Walking Tour
For GoT lovers, spend 2 hours on a guided tour stopping off at all the filming spots of Game of Thrones within Dubrovnik!
Take a trip to Mount Srđ
For those that love a scenic outlook, take a cable car to Mount Srd to witness the city at stunning new heights.
Days 3-4 Split
Seven days in Croatia
If you're backpacking Croatia, Split is one of those cities that you cannot miss. Especially if you're looking to spend some time hopping around the incredible Croatian islands. Split has undergone some modern industrialization, a stark contrast from the historical city of Dubrovnik.
Things to do in Split
Spend the day at Bacvice Beach
For clear waters and white sand, spend an afternoon lounging on Bacvice Beach. The beach's popularity is due to the proximity to the city center and the shallowness of the water.
Visit Diocletian's Palace
When researching what to see in Croatia, you've probably come across an image of the Diocletian Palace located in Split Old Town. Diocletian Palace is UNESCO World Heritage Site made up of ancient Roman architecture dating back to 4 A.D and is full of cafes, shops and cathedrals.
Stroll along Riva Promenade
Riva Promenade offers an opportunity to indulge in tasty ice cream or a fancy dinner overlooking the Croatian coast. An afternoon spent walking along the Riva will cause you to fall in love with Croatia's energy and beautiful architecture.
Report this ad
Day 5 — Day trip to Krka National Park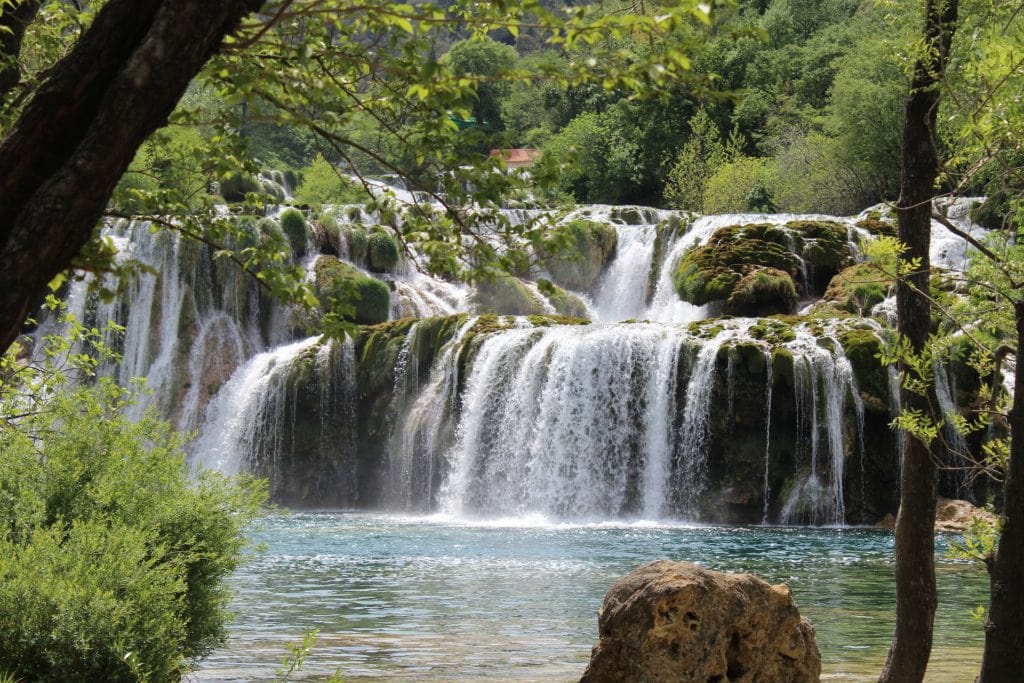 Croatia backpacking itinerary
About an hour outside of Split is the Krka National Park, a gorgeous waterfall park. A day spent at Krka will involve cascades of clear waterfalls with natural pools you can swim in. Most day tours to Krka involve surrounding viewpoints parks and smaller Croatian towns to enjoy.
Days 6-7 Hvar Island
Croatia blog itinerary
For a 7 day Croatia itinerary, Hvar Island will ensure you end your Croatia trip on a high note. Hvar Island is known as the queen of the Croatian Dalmatian islands and remains the sunniest spot in the entire country.
Things to do on Hvar Island
Dive amongst historic sunken ships
If you're a diver, take a dive trip to a spot where several sunken merchant ships sit at the bottom of the ocean. With many species of sea creatures now calling the wreck home, it's a great spot to explore the beautiful waters of Croatia.
Party until the sunrise
Hvar Island is known for having a lively nightlife with a huge amount of clubs and bars around the island. Kick back and enjoy a drink during the day at the Hula Hula Beach Bar or check out Carpe Diem for a wild night out.
Explore the Stari Grad (Old Town)
Another can't miss historic site in Croatia is the Old Town of Hvar, Stari Grad. In a country full of historic spots, this port town is Croatia's oldest town (384 BC to be exact).
Croatia Itinerary 10 Days
Day 8 — Zadar
Croatia backpacking tips
For those on a 10-day Croatia itinerary, the fun continues in the town of Zadar. Take the scenic route along the Dalmatian coast and arrive in another historically rich Croatian town. Zadar was named 2016's best European destination! While you're in the area, you could also consider a day trip to Plitvice Lakes National Park on your way to Zagreb.
Things to do in Zadar
Visit the Museum of Ancient Glass
Visit the Museum of Ancient Glass that features a live demonstration of glass blowing and jewelry making amongst exhibitions featuring artifacts dating over 2000 years old.
Experience Zadar's one-of-a-kind Sea Organ
Unlike a musical organ that's played by a person at the church on Sunday, this Sea Organ produces noise when the ocean hits pipes built underground. Definitely a "have to hear it believe it" kind of experience!
Days 9-10  — Zagreb
Must-see in Croatia
The last city before you reluctantly head out of Croatia is the interior city of Zagreb — the country's capital, largest city and melting pot of modern and historical architecture.
Things to do in Zagreb
Museum of Broken Relationships
Exactly what it sounds like — a museum dedicated to relationships that didn't make it. Artistic impressions, funny stories and heartbreak all make for a unique representation of lost love.
Visit the Zagreb Eye
Catch a 360 view of the city and enjoy drinks and dinner at the top of this observation deck for a picturesque view of the Zagreb skyline.
Go shopping at Dolac Market
A trip to Croatia isn't complete without spending time strolling through a market. The Dolac Market has souvenirs, fashion items, flowers and a wet market for the locals or fruit-loving tourists.